candle holders
Can Candle Holders come in a variety of sizes and most of the same designs that I do in the lamp shades.
Candles cast shadows onto the wall and table just like the lamps, but the shadows move
I get the cans from my friends and Neighbors who do a great job of keeping me stocked. A special shout-out to The Jokerst Family, Shannon at Beanik, Stay and Play and our local public school for supporting their local artist by recycling here.
Prices range from $8-32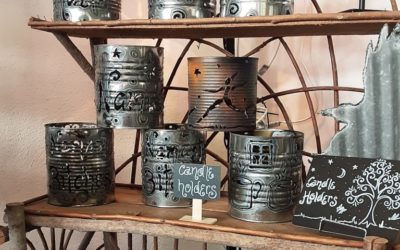 Purchase Through Mail Order
Although our store is currently closed, we are still accepting orders by phone or text. Call or text me for up to date availability and questions about payment. Thanks for your support! – Sam